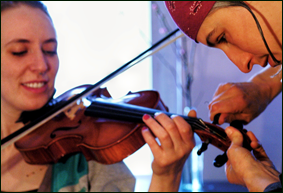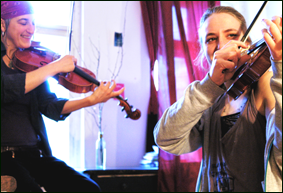 Violin lessons in Berlin
Whether you're a beginner or already very advanced, i'd be happy to meet you for a trial lesson!
I teach in German and English, the teaching room is in Berlin Berlin-Neukölln, near Kreuzberg.
Together, we could find out what your wishes are:
- learning the classical violin/viola technique.
- playing with other in an orchestra or small group
- trying different styles of music (like tango, klezmer or country fiddle)
- learning to play the baroque viola/violin
- improvising, or creating beautiful violin lines for your band project
Whatever it is you want to learn:
it's always about having fun while you're playing!
About me, your teacher Christina Anger
I am born in Berlin and studied violin, viola & baroque music in Switzerland.
Now I work in several classical ensembles in Berlin, sing & play with my band
Subway Tango
and offer violin & viola lessons in my studio at Weichselplatz in Berlin-Neukölln, near Kreuzberg.
Violin lessons in Berlin in English Tel. 030-61288318